YCL Women's Series | Emma Henderson
Welcome to our YCL Women's Series; a space created to share the stories & insight of women all around the world, whom inspire us.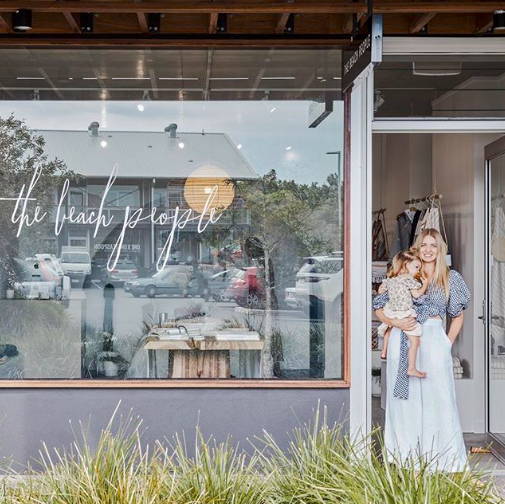 Meet one of the inspiring women behind iconic label The Beach People, Emma Henderson. Alongside her sister Victoria, Emma is the co-founder and Creative Director of the brand. The Beach People's first collection of the original "roundie" beach towel gained a cult following around the world and sold out within weeks. Only a few short years later, they continue to innovate and inspire with their modern take on seaside luxe essentials and have recently opened their very first flagship store in Byron Bay.
1. How did you get to where you are today? Tell us a little bit about your journey…
The journey. What a ride. As in rollercoaster ride. Sometimes the kinda roller coaster you just want to close your eyes and get off haha... We are where we are today because of good old fashion hard work ha… Victoria and I have never done anything like this before. We have been blessed to have some incredible business mentors who have shared their wisdom with us along our journey. That would be my advise for anyone starting out, get around as many people like minded business people as you can and ask them as many questions as you can. Then just go with your gut! No one knows your business and customer like you do
2. Who is your ultimate muse / inspiration?
I'm usually inspired by art, music, architecture or a period of time like the 50's 60's 70's. My ultimate inspiration is nature. I recently traveled with my family to New Zealand and found the scenery just breathtaking. Travel always inspires, Victoria and I travelled to Montauk a few years back and we designed a whole collection after it.  
3. Being based on the Northern Rivers of NSW. What are your local hangouts?
Kingscliff creek on high tide never disappoints! Has to be on the high tide so the water is crystal clear. It's like the Maldives!! Actually all the inlets are pretty special on the Northern Rivers, Hastings Point and Pottsville have the same magical aqua blue waters. Perfect for a paddle board. Victoria and I are based in Kingscliff there are some amazing eats in the area. Taverna for modern greek, Spice den asian fusion, Halcyon House for a prawn sandwich (and a sneaky day spa). The area has lots of farm land so you can just go for a drive and enjoy the fresh produce.
4. What is your favourite piece of jewellery and what story does it hold?
My sweet husband surprised me last year with a stunning opal ring for my birthday. I had seen it years ago and sent him the picture saying "if you ever feel the need to buy me jewels I would love something like this" then I just completely forgot about it... It was a out of the blue gift, no special occasion and I think that's why it's special.
5. What has been the most rewarding aspect of owning your own business?
It's my favourite thing seeing people all over the world enjoy the products that Victoria and I create. We see every post and tag that's shared and it a delight! I get a real kick out it! I also love working with our staff they are the most talented team with a can do pioneering attitude!
6. Being co-founder of a successful business, as well as a mumma to three beautiful children, how do you ensure you are not missing those precious moments? Do you have any advice for mummas out there trying to follow a similar path?
The ol' work life balance question. It can be tricky. Step one leave mum guilt at the door. There will be weeks when your busy at work with trade shows and collection deadlines and a staff member leaves and your working all kinds of mad hours. But then there are weeks when you have sick babies and work will just have to wait. Thats just life. Most weeks its phones down at 5pm so I can be present with the children. Weekends we switch off and just engage with the kids and live slow.
7. YCL stands for Your Core Light, what does Your Core Light mean to you?
My core light is my family!
8. What advice would you impart on the next generation of women?
I know I said it earlier…but trust your gut! If something doesn't feel right for you or your business then it's probably not. Also live the life you want to live right now. When we started The Beach People we got really busy. I found I was saying 'once the business reaches X stage I should be able to walk on the beach again' or 'once I get X in my life I can do more of the things I want'… It might take years until you get to a desired stage in your life. So now I walk on the beach in the afternoons with my family, spend plenty of time with my friends and just do loads of the thing that make me and my family happy everyday.